FIRST-GENERATION GRADUATE, 18, EARNS DEGREE IN NEUROSCIENCE/BEHAVIOR
FIRST-GENERATION GRADUATE, 18, EARNS DEGREE IN NEUROSCIENCE/BEHAVIOR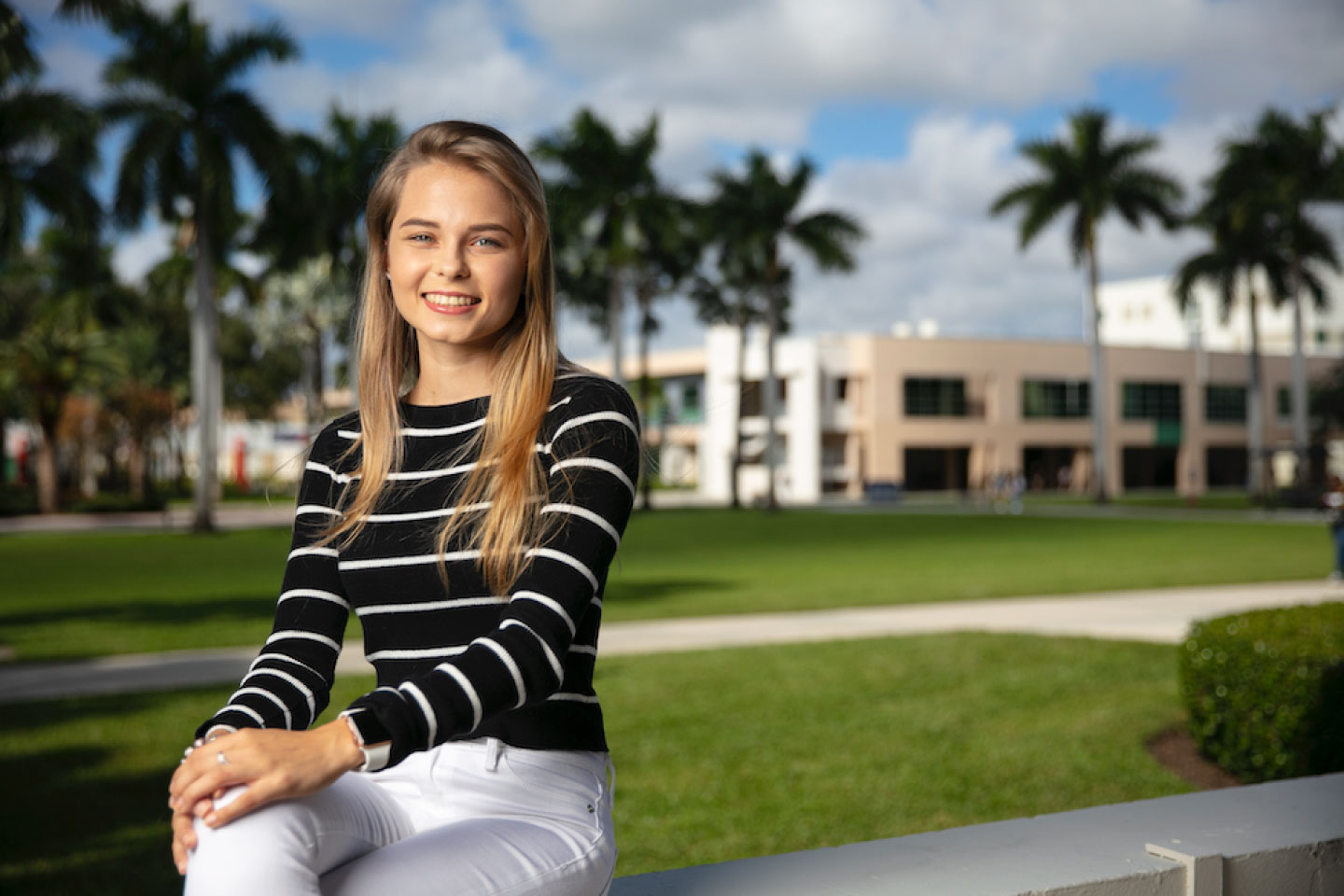 ---
by BRITTANY SYLVESTRI | Thursday, Dec 12, 2019
At just 18 years old, Jessica Baran is the first person in her family to be born in the United States and will be the first to earn a college degree. These two major milestones will be celebrated as she walks across the stage on Friday, Dec. 12 at 5 p.m. to receive a bachelor's degree in neuroscience and behavior with a perfect 4.0 GPA. 
Baran's parents emigrated from Poland more than 30 years ago to pursue the American dream, along the way overcoming challenges and making sacrifices in order to ensure that their daughter could successfully attend college. 
"I made sure not to waste the opportunity my parents provided for me by working relentlessly and performing my best," said Baran. 
Baran graduated from FAU High School and was named valedictorian of her class just seven months ago from FAU's University Honors Program, a program designed to provide students with exceptional and rewarding learning opportunities through special honors courses.
Unlike most 18 year olds, Baran will be of one of the first students to graduate from the Max Planck Honors Program through the Max Planck Institute at FAU – the only place of its kind in the country. The program provides select honors students with exclusive enrichment opportunities, including courses taught or co-taught with Max Planck Society scientists.
Baran's research focuses on the effects of a dopamine agonist on cued feared memory, something she one day hopes will lead to breakthroughs in Parkinson's, Alzheimer's and Huntington's diseases.
"Jessica is a remarkable student on a number of levels," said Robert W. Stackman, Jr., Ph.D., dean of FAU's Graduate College and FAU psychology professor. "She arrived in my lab with an exquisite array of skills she received at FAU High School, which enabled her to quickly transition into an independent research program. She quickly reached a level of performance in the lab akin to that of a high performing graduate student."
In Baran's spare time when she is not volunteering in the emergency room at Boca Raton Regional Hospital, she enjoys painting and needlepointing. She is also the president of FAU's Blood Pressure Screening Association, an organization that provides free blood pressure screenings to underserved communities in South Florida.
For Baran, the dedication and drive she has to fulfill her aspirational goals is endless.  Next on her list is to become the first person in her family to attend medical school and become a doctor.  
"I believe that anything is attainable for anyone, if one is willing to seize their chances and work hard in everything they are given," said Baran. "I know my journey doesn't end here, this is just the starting point for a much bigger dream, and I can't wait for what's next."
-FAU-