THEY MATCHED! FAU'S SOON-TO-BE PHYSICIANS CELEBRATE 'MATCH' DAY
THEY MATCHED! FAU'S SOON-TO-BE PHYSICIANS CELEBRATE 'MATCH' DAY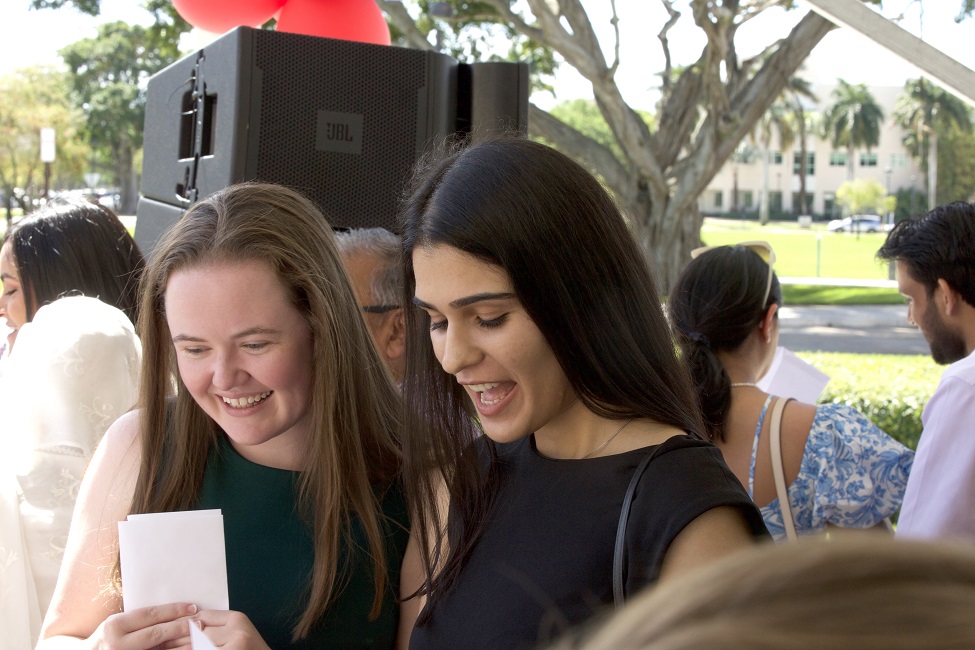 ---
by GISELE GALOUSTIAN | Saturday, Mar 18, 2023
Today was not just a "lucky" day. It was a testament to the perseverance and accomplishments of  Florida Atlantic University   's soon-to-be physicians – 100 percent of the class of 2023 matched for residency placement in post-graduate training programs. Along with thousands of other fourth-year medical students around the nation, the  Schmidt College of Medicine   's class of 2023 opened their sealed envelopes at noon on this "Match Day," and learned where they will fulfill their dreams for medical residency training.
Residency programs take three to seven years to complete depending on the medical specialty and are required for physicians to become license-eligible (board certified).
Match Day occurs nationally on the third Friday of March every year where the results of the  National Resident Matching Program  (NMRP)   are announced. Results of the Main Residency Match are closely watched because they can predict future changes in the physician workforce. 
"It is you, our students, who inspire us and drive us all forward," said  Julie Pilitsis   , M.D., Ph.D., dean and vice president for medical affairs, FAU Schmidt College of Medicine. "We have accomplished so much since we gathered together last year for Match Day. We launched the FAU Health Network solidifying partnerships throughout the university and with many community partners, hospitals and universities, and began embarking on expanding our medical school to serve the needs of our community. As we remain singularly focused on our mission to be, 'Of the community, for the community,' just remember, no matter where your matches take you, you will forever remain an integral part of our community. Congratulations class of 2023."
Among this year's class are the first two medical students from the  FAU High School   Med Direct Program: Sarah Palumbo and Nadia Sial, both age 24, who will receive their M.D. degrees in April during the medical school's commencement. They both completed a B.S. degree in neuroscience and behavior at age 18. Palumbo will be staying at the FAU Schmidt College of Medicine for a residency in internal medicine, and Sial will be heading to Yale - New Haven Hospital in Connecticut for a residency in neurology.  
Cody Jackson, Ph.D., FAU's first M.D./Ph.D. dual-degree student, also is among the class of 2023. His research career has focused on virology and immunology, and he will be heading to Oregon Health & Science University for a residency in internal medicine. 
In line with the medical school's mission, 28 percent of the class of 2023 will conduct their residency in Florida, and 38 percent will specialize in primary care including internal medicine, family medicine, and pediatrics. The class of 2023 also matched in some of the most competitive specialties including plastic surgery, psychiatry, orthopedic surgery, dermatology, neurological surgery, ophthalmology, among others.  
"Class of 2023, you made it. Despite a pandemic, hurricanes and so many unique and unprecedented challenges over the past few years you did not waiver. You not only have survived, you have thrived," said  Sarah K. Wood, M.D., vice dean, FAU Schmidt College of Medicine. "Seeing you all here today surrounded by your close friends, family and FAU faculty and staff, having accomplished so much, makes me incredibly proud of how you have navigated it all."
Six couples from the class of 2023 matched together in the "couples match": Sa'Rah and Emmanuel McNeely; Zaimary Meneses and Nikolas Ujeta; Anna Wienand and Gabriel Lama; Sierra Conine and Matthew Zinner; Monica Espinosa and Bob Grady; and Alayna Kelly and Isaiah Herrera. The class of 2023 also welcomed nine babies to the FAU Schmidt College of Medicine family while in medical school. Among them is the McNeelys' 17-month-old daughter, Grace, whom Emmanuel helped to deliver under the supervision of an OB/GYN physician.
Among the various Florida institutions where the class of 2023 placed are FAU's Schmidt College of Medicine; Memorial Healthcare System; University of Miami/Jackson Health System; University of South Florida Morsani College of Medicine; University of Miami Miller School of Medicine/Holy Cross; University of Florida College of Medicine – Shands Hospital; Cleveland Clinic Florida; Bayfront Medical Center; HCA Healthcare East Florida Division GME; and Orlando Health.
The class of 2023 also placed in several top institutions nationally, including Boston Children's Hospital; New York-Presbyterian/Columbia University Medical Center in New York; Yale – New Haven Hospital; University of Chicago Medical Center; Children's Hospital Los Angeles; Hospital of the University of Pennsylvania; and Brown University in Rhode Island.
In addition, on Match Day, 44 outstanding graduating medical students from various backgrounds throughout the nation matched into FAU's residency programs in internal medicine (24), surgery (seven), emergency medicine (six), psychiatry (four) and neurology (three). FAU's fellowships also will welcome new trainees in cardiovascular disease, geriatric medicine, hospice and palliative medicine and vascular surgery.
"For the second year in a row, FAU's categorical residency programs matched for all of our available residency positions within five programs, despite Florida having unmatched positions in these same specialties except for surgery," said Curtis L. Whitehair, M.D., associate dean for graduate medical education and the designated institutional official, FAU Schmidt College of Medicine. "For emergency medicine alone, which had an 18.4 percent, 40.1 percent unfilled rate nationally and statewide respectively, there were approximately 555 unfilled positions in the United States. Florida had 48 unfilled positions, up 10, from last year on the first day of match week. Yet, we continue to fill our program each year due to the exceptional education environment we provide within the Palm Beach County area." 
The NRMP uses a computer algorithm, developed in 1952 by Nobel Prize-winning economist Alvin Roth, to place students in the program that they prefer. Each residency program at a hospital has a fixed number of first-year positions that they can fill each year based on their accreditation. Leading up to the big day, each student lists in order of preference the residency program that he or she seeks to work with and each residency program then ranks its applicants in order of its own preferences.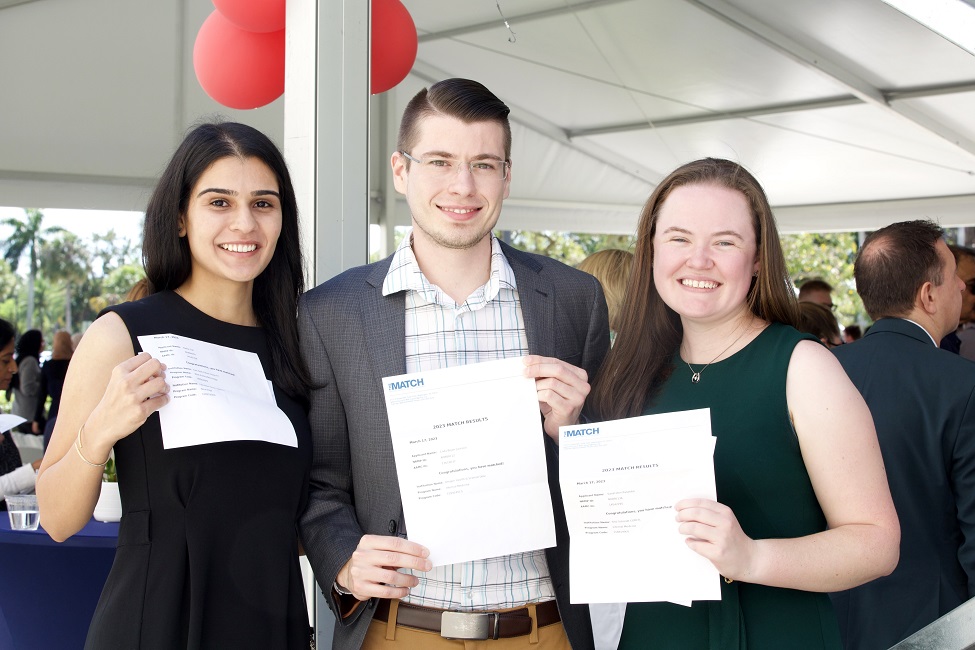 (From left) Nadia Sial; Cody Jackson, Ph.D.; and Sarah Palumbo with their letters indicating where they will be conducting post-graduate residency training.
-FAU-