FPL Becomes Signature Sponsor for The Cane Institute SeaPerch Underwater Robotics Teams
FPL Becomes Signature Sponsor for The Cane Institute SeaPerch Underwater Robotics Teams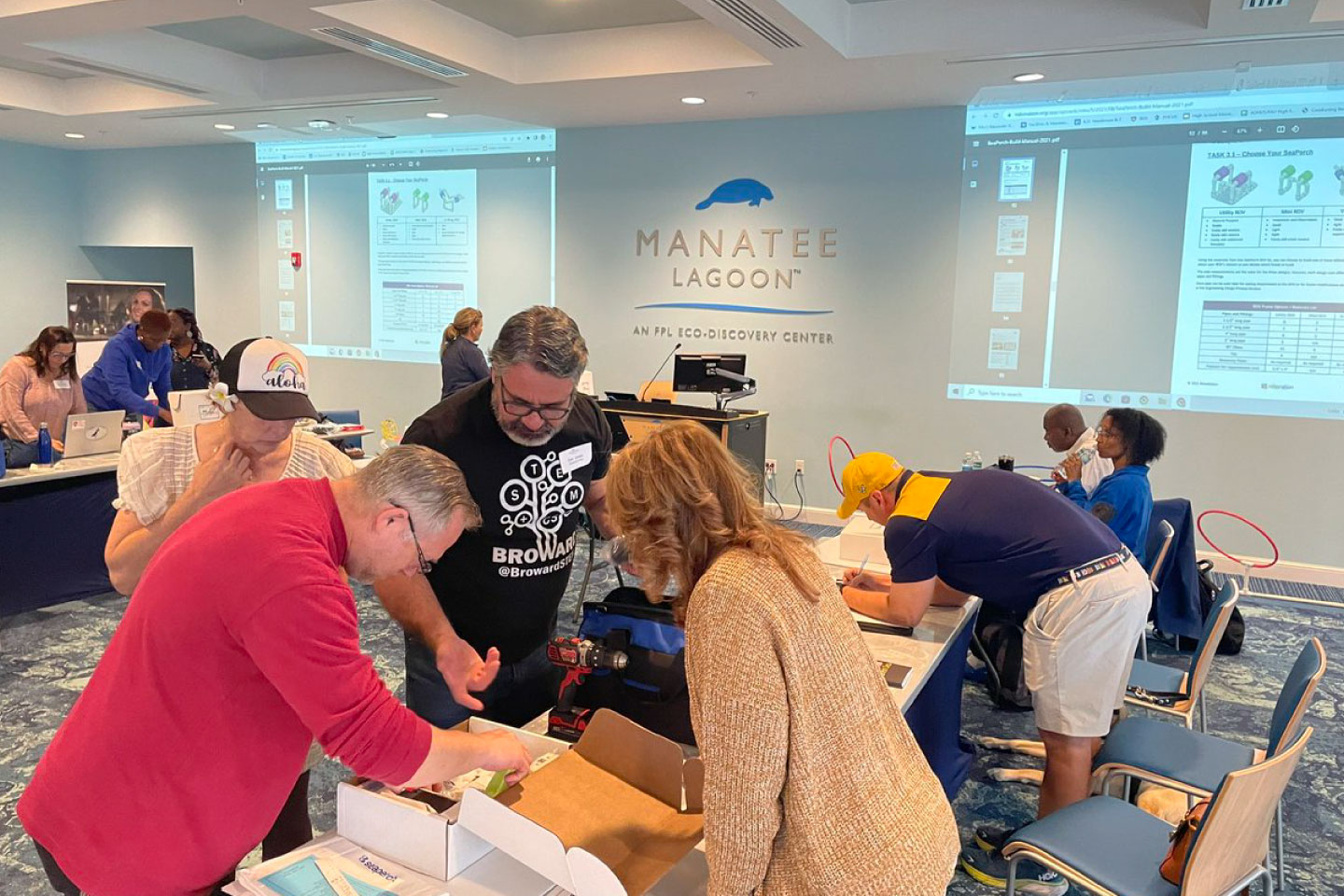 ---
Friday, Jan 27, 2023
FAU Lab Schools was recently awarded $25,000 from Florida Power and Light to become the signature sponsor for The Cane Institute SeaPerch Underwater Robotics teams and provide teacher training through the Stiles-Nicholson STEM Teacher Academy.
Additionally, FPL will sponsor five regional qualifying tournaments and the registration expenses of at least ten local middle and high school SeaPerch teams to the International SeaPerch Challenge at the University of Maryland on May 13, 2023.
The free teacher training at the FPL Manatee Lagoon location will provide 30 South Florida teachers with SeaPerch ROV kits, SeaPerch tool bags, and training to begin new SeaPerch teams in local middle and high schools. 
"We are grateful for Florida Power & Light's deep commitment to STEM education in South Florida," said AllanPhipps, STEM Coordinator at FAU Lab Schools. "FPL invests in the next generation of STEM leaders while providing young scientists, engineers, and entrepreneurs with a safe and exciting place to learn and explore through extracurricular STEM clubs and competitions. We are thrilled that FPL has added SeaPerch to their expanding portfolio of STEM support here in South Florida."  
SeaPerch is a remotely operated vehicle (ROV) underwater robotics program, competition, and community. The program equips students and teachers with resources to learn basic science and engineering concepts, tool safety, technical applications, problem-solving, and teamwork skills in an exciting, hands-on way. SeaPerch reaches over 250,000 students in over 35 countries and all 50 U.S. states annually that compete in over 100 qualifier events to qualify for the annual culminating competition, the International SeaPerch Challenge.
"I have been incorporating SeaPerch into my curriculum for nine years and believe it is one of the most powerful platforms for student engagement I have seen," said James Nance, STEM and Elementary Computer Science teacher at A.D. Henderson University School. "Not only is the SeaPerch competition a fantastic motivator, but introducing students to an underwater platform has opened the imagination of my students and led to incredible research projects far beyond the scope of the competition. I am confident this partnership will have a lasting impact on hundreds of students' academic and career paths. I can't wait to see the dividends of the program expanding throughout South Florida."
Founded by Dan Cane, The Cane Institute serves as the epicenter for research, education, and technology transfer for A.D. Henderson & FAU High School. The Institute's integrated approach to solving society's most challenging problems engages the best and brightest students, faculty, and resources at A.D. Henderson & FAU High School to explore today's most complex challenges in areas such as cybersecurity, autonomous vehicles, robotics, virtual reality, augmented reality, automation, and artificial intelligence.
Founded by David Nicholson, The Stiles-Nicholson STEM Teacher Academy aims to develop teachers in STEM education to expand the outreach in their classrooms by preparing students for the jobs of the future. Teachers matter more to student achievement than any other aspect of schooling. The SNSTA impacts every teacher who steps in front of the classroom to create an immediate multiplier effect.